The 5 Most Unusual and Popular Attractions & Restaurants in Central Oslo
Oslo, the capital city of Norway, is brimming with stunning natural beauty, rich culture, and friendly locals. It's no surprise that the city is home to a myriad of attractions and eateries that are sure to capture the hearts of both tourists and locals alike. In this article, we will explore the five most unusual and popular attractions in central Oslo, as well as dive into the five most beloved restaurants and cafes serving national Norwegian cuisine. Sit back, relax, and let us guide you through the magical city of Oslo!
Unusual and Popular Attractions:
The Mini Bottle Gallery is a quirky museum that showcases the world's largest collection of miniature bottles, with over 53,000 on display. Situated in the heart of Oslo, this unique attraction is a must-visit for those who appreciate the unusual. Be prepared to be amazed by the variety of bottles ranging from soda to liquor, and the creative displays that include a slide and a creepy haunted room!
Address: Nedre Slottsgate 2, 0157 Oslo, Norway
While not your typical city attraction, the Korketrekkeren Toboggan Run is a 2,000-meter long adrenaline-pumping ride located just outside central Oslo. Originally built for the 1952 Winter Olympics, this thrilling toboggan run is open during the winter months and is easily accessible via public transport. Grab a sled, feel the wind in your hair, and race down the icy track!
Address: Frognerseterveien 57, 0787 Oslo, Norway
If you're looking to experience a true Norwegian pastime with a twist, head to the Floating Sauna in Oslo's harbor. This unique attraction combines the traditional Scandinavian sauna experience with the refreshing chill of the Oslofjord. Hop between the cozy warmth of the sauna and the invigorating cold waters, and relax while taking in the breathtaking views.
Address: Langkaia 1, 0150 Oslo, Norway
The Vigeland Installation is an awe-inspiring outdoor sculpture park that showcases the life's work of renowned Norwegian sculptor Gustav Vigeland. The park features more than 200 bronze and granite sculptures, including the iconic Angry Boy and the monumental Monolith. Wander through the lush greenery and admire the captivating sculptures that depict the entire human life cycle.
Address: Nobels gate 32, 0268 Oslo, Norway
For an unparalleled view of Oslo's skyline, head to the Oslo Opera House and take a stroll on its magnificent roof. Designed to resemble a glacier, the sloping roof offers a unique walking experience with stunning panoramic views of the city and the fjord. Don't forget to snap some photos for a memorable keepsake!
Address: Kirsten Flagstads Plass 1, 0150 Oslo, Norway
Popular Restaurants and Cafés with National Norwegian Cuisine:
For an exquisite taste of Norwegian fine dining, make a reservation at Statholdergaarden. This Michelin-starred restaurant is housed in a charming 17th-century building and offers a seasonal menu that highlights the finest local ingredients. Expect to pay around NOK 1,000-1,200 ($110-$130) for a six-course meal.
Address: Raadhusgata 11, 0151 Oslo, Norway
Maaemo, another Michelin-starred gem, is dedicated to showcasing the best of Norwegian cuisine through innovative and sustainable practices. The restaurant's menu is a testament to the country's culinary heritage, with each dish telling a story about Norway's landscape and culture. Prepare for a gastronomic journey with a tasting menu priced at approximately NOK 2,500 ($275) per person.
Address: Schweigaards gate 15B, 0191 Oslo, Norway
Fiskeriet Youngstorget is a cozy eatery that combines a seafood market with a restaurant, allowing patrons to enjoy the freshest catch of the day. With a focus on simplicity and quality, Fiskeriet offers a variety of traditional Norwegian seafood dishes, such as fish soup and fish cakes. Main courses range from NOK 150-250 ($16-$27).
Address: Youngstorget 2b, 0181 Oslo, Norway
Mathallen Oslo is a vibrant food hall that brings together a diverse array of vendors offering both local and international cuisines. Among the many stalls, you'll find several offering Norwegian delicacies such as cured meats, brown cheese, and the ever-popular Norwegian waffles. It's the perfect spot to sample a variety of traditional foods in a lively and informal atmosphere. Prices vary depending on your selections, but you can easily enjoy a satisfying meal for NOK 150-300 ($16-$33).
Address: Vulkan 5, 0178 Oslo, Norway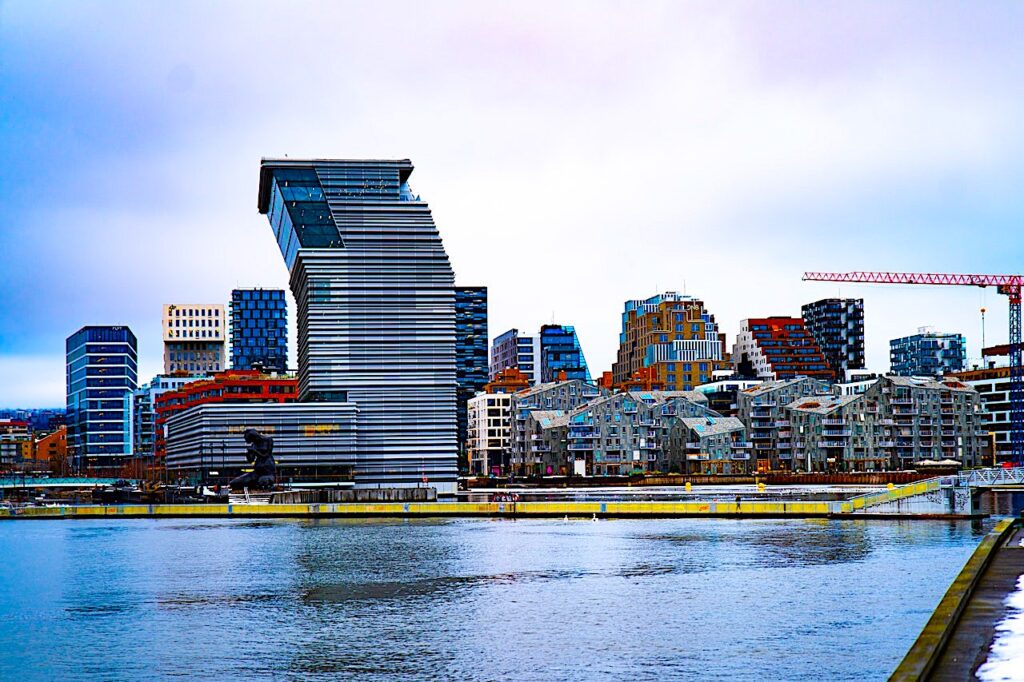 Oslo is a city that effortlessly blends the old with the new, offering a unique mix of attractions and culinary experiences that cater to every taste. From unusual museums to adrenaline-pumping toboggan runs, and from Michelin-starred restaurants to cozy cafes, there's something for everyone in this charming Nordic capital. We hope this guide has inspired you to discover the hidden gems and mouthwatering cuisine that make central Oslo an unforgettable destination.